Our flagship program AI Saturdays lasts about 12-15 sessions of 5h each.
It is always scheduled on Saturdays, so that everyone has the opportunity to learn while building projects powered by AI.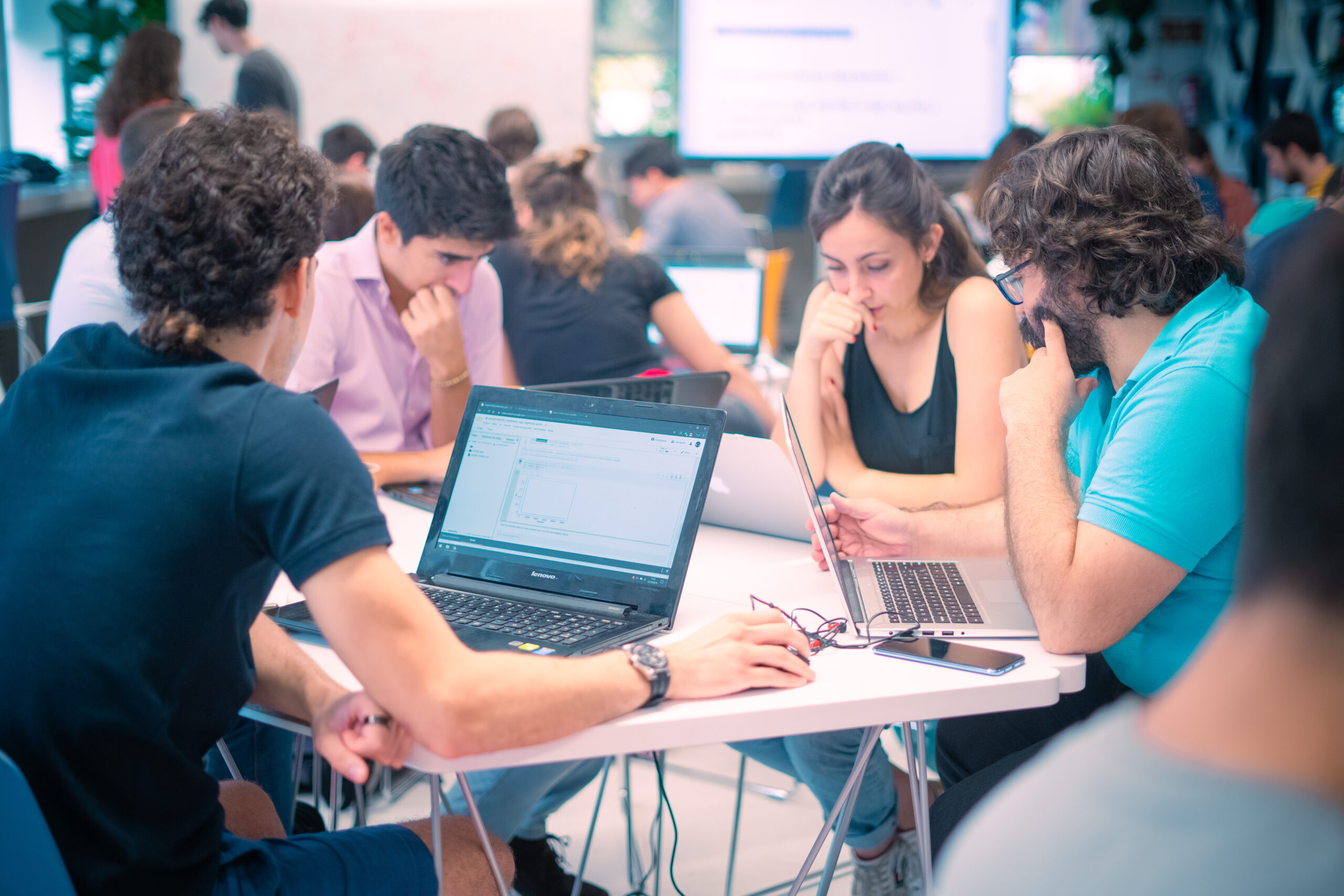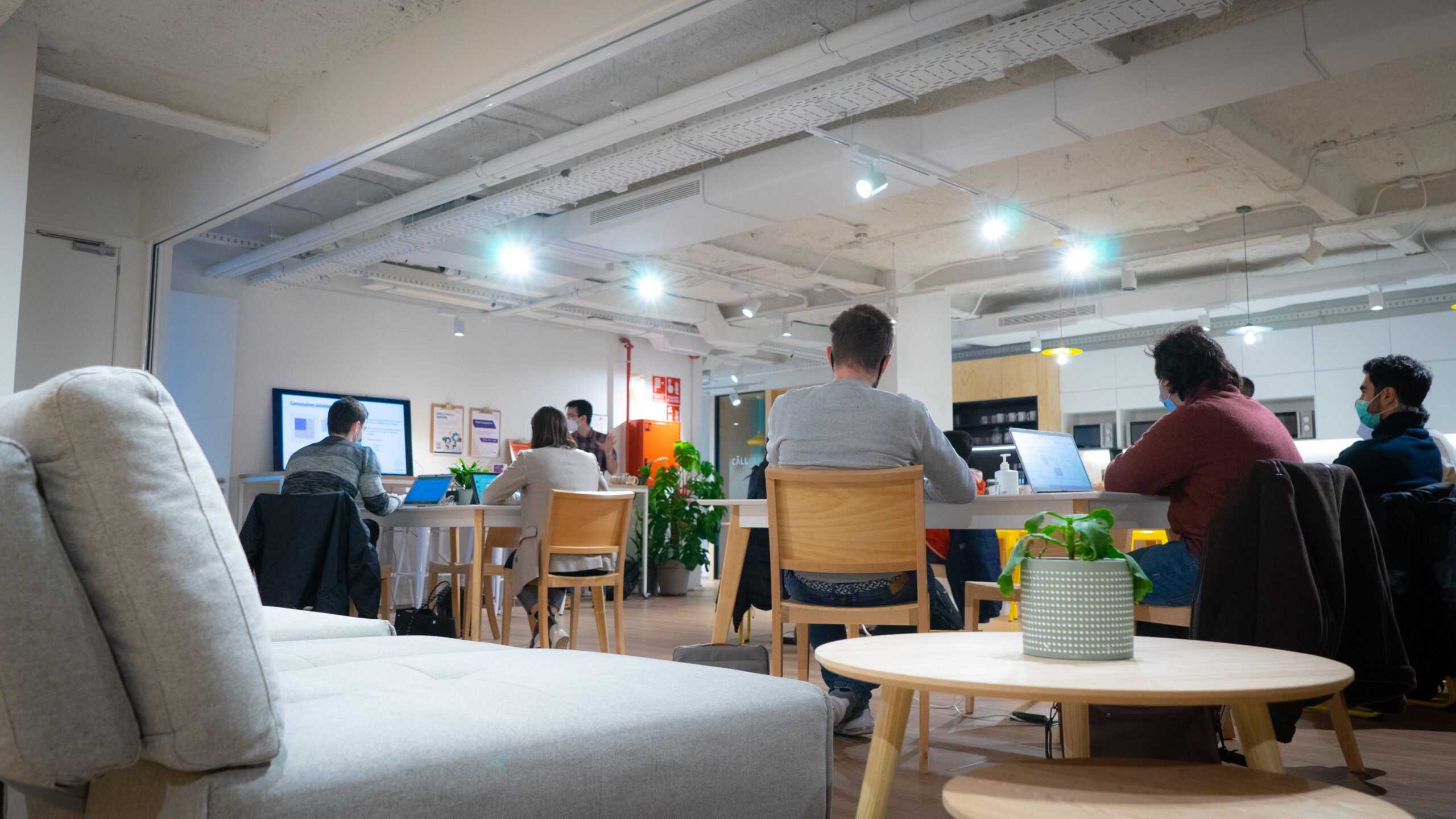 During the first half of the program, we learn the foundations of Machine Learning or Deep Learning through coding exercises on GPU enabled environments in a collaborative way. You will be assisted by facilitators and mentors all along this stage.
We follow a top-down approach to learning by programming. To start, you will need some knowledge in Python and to know how to handle the basics of data science libraries. We go for challenges that encourage thinking.
Practice > Theory
In the second half of the program, we build end2end AI powered prototypes using what we have just learnt. Working with both a dataset and a model of your choice, we address a real problem with AI, looking for social impact ideas. 
For the projects, we put together multidisciplinary teams where diversity stands out. You can flip through all the projects we developed here.
Finally, after completing the Saturdays sessions, you deliver a presentation on DemoDay. This day, you can reveal to the community what you have accomplished and we all celebrate your project showcase. 
To submit your project you will need to display your work beforehand in an article in our blog and publish the code in open source through Github.
How is the programme built?
You can choose different curriculums in Machine Learning or Deep Learning depending on your knowledge and interests in AI. You will learn in group with your mentors through coding exercises and share with your partners.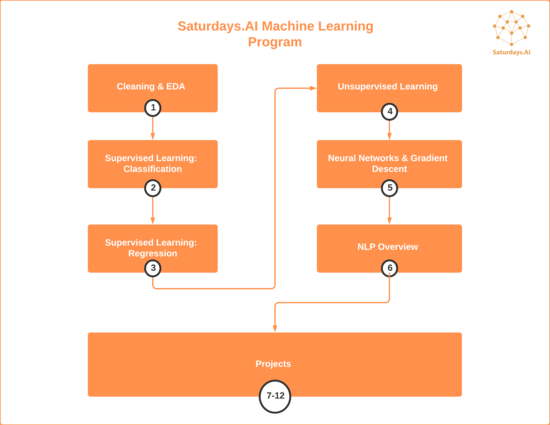 This programme consists of a minimum of 6 weeks, that can be extended at the discretion of the city manager. Here you can take a look at the basic content you will learn. 
During the weeks of the Code2Learn phase we are not seeking for a complete training, but rather for you to develop the ability to use Machine Learning in practical exercises.
Level: beginner
The Deep Learning curriculum also consists of a minimum of 6 weeks. To enroll, you will need a minimum of experience with key Machine Learning concepts, preferably through a project.
Here you can look at the basic curriculum, although each city has the possibility to extend it. Ask your city lead. 
Level: intermediate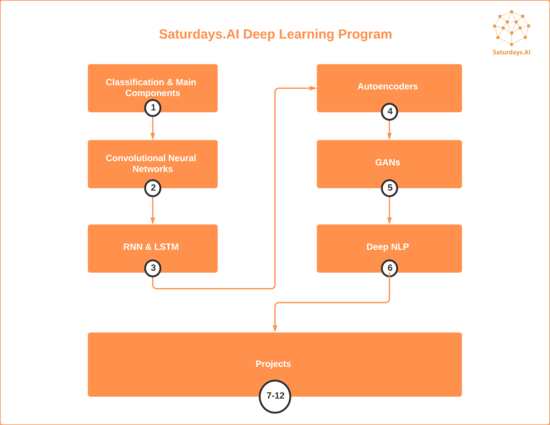 With social impact projects and immersive content built in groups, you'll master the A.I. skills you need.
Not only will you learn by creating a project, but you will be able to have a real and social impact in the field you choose.

Our mentors will guide your learning and are focused on answering your questions, motivating you and keeping you on track.
The reason why anyone can learn A.I. is to be able to count on mentors from different backgrounds with experience in machine learning.
A learning experience done right
Access to recorded classes, forums, exercises and more resources.
Thanks to the help of Eduflow you will be able to train yourself through tests, exercises, corrections and feedback between students, etc.

Certificate of completion
Get your certificate of completion after the successful completion of your project. It is a certificate issued by Saturdays.AI as an organization so you can present it on your CV or Linkedin.
You will have to complete the entire course, from the exercises of the code2learn phase, to creating a group project and presenting it at the demoday.

have benefited from learning Artificial Intelligence as part of the AI Saturdays movement, creating an awesome community of AI enthusiasts and practitioners.
Our participants have built high-impact AI prototypes and proof of concepts (POC) during AI Saturdays, many for non-profit organizations and several on their way of becoming Start-ups.
Machine Learning Exercises
To deliver on our commitment of making you AI fluent, we employ the best learning tools. We know that the learning experience is as good as the community that you are part of plus the lessons you follow. 
Our participants come from all walks of life. We are developers, researchers, entrepreneurs, product managers, students… Diversity is the bedrock on our mission.